Empire of Iberia

Political Information
Type of Government
Head of State
Head of Government

Hand of the King, Catalina Guerrera

Branch Information
Legislative
Executive
Judicial
Social Information
Capital

Madrid
Lisbon (Emergency)

Official Languages

State Religion

Iberian Leaders
Castile
King Alberto II
Portugal
King Roberto I
Aragon
-
Sicily
Military Gov. Ronold Cobens
Brasil
-
New Spain
Governor David McMartini
Rio da la Plata
-
New Granada
-
Peru
-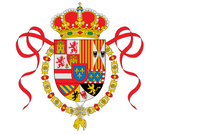 Flag of the Empire of Iberia
Law of the Land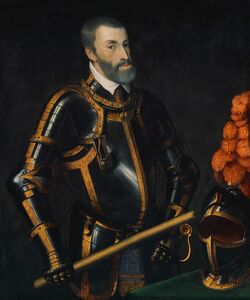 King Alberto II
King Alberto II of Castile (Head of State)
King Roberto I of Portugal (Head of Government)
King - of Aragon

Governor (Brasil)
Governor David McMartini (New Spain)
Governor (Rio de la Plata)
Governor (New Granada)
Governor (Peru)
Cardinal Andrew Octavianius Clemente Wright III (Religion)
Lord General Ronold Cobens
Grand General ??? (Infantry)
Grand General ??? (Cavalry)
Grand General ??? (Artillery)
Lord Admiral ???
Grand Admiral ??? (Atlantic Ocean)
Grand Admiral ??? (Mediterranean Sea)
Grand Admiral ??? (Gulf of Mexico)
Great Britain - 5% Tariff
Denmark - 7% Tariff
Habsburg Monarchy - 6% Tariff
The Ottoman Empire - 7% Tariff
Free trade and No tariffs in place
[
edit
|
edit source
]
Free Trade, No Tariffs, Economic Support
Prussia - Open Borders Pact
Great Britain - Trade, Defence, & Open Borders Pact
Denmark - Defence & Trade Pact
Morocco - Open Borders Pact
Caribbean - Trade, Defence & Open Borders Pact
France - Defense & Trade Pact
Sweden - Iberia's Union Member
Habsburg Monarchy - Trade & Defence Pact
Arabia
The Ottoman Empire
The Netherlands
Russia
Persia
Genoa
Unable to contact (Neutral):

[

edit

|

edit source

]
The Papacy
Montenegro
Venice
Watch List (Neutral, but suspicious)
[
edit
|
edit source
]
Savoy - At War
The Netherlands - At War
Switzerland - At War
Coast Embassy in Madrid & Coast Counslate in Barcelona
Spanish Embassy in Havana & Spanish Counslate in St. Augustine
Swedish Embassy in Madrid & Swedish Counslate in Seville
Spanish Embassy in Stockholm & Spanish Counslate in Helsinki
Romanian Embassy in Madrid & Romanian Counslate in Cordoba
Spanish Embassy in Bucharest & Spanish Counslate in Iasi
Danish Embassy in Madrid & Danish Counslate in Seville
Spanish Embassy in Copenhagen & Spanish Counslate in Christiania
Dutch Embassy in Madrid
Spanish Embassy in Amsterdam
French Embassy in Madrid & French Counslate in Cordoba
Spanish Embassy in Versailles & Counslate in Marseille
Prussian Embassy in Madrid
Spanish Embassy in Berlin
The Empire of Spain is taken control by King Alberto II of Granada
The Bavarian Monarchy is declared a foe of the empire.
Cuba, Santo Domingo, Puerto Rico, and Florida is ceded to the Brethren Coast.
Supporters of the former Jorge Clemente rule are exiled from Spain and it's Empire.
Andrew Octavianius Clemente Wright III becomes Cardinal of Spain.
The Spanish Inquisition is formed once more.
Blau Wolf XIII is named Grand Inquisitor by the Crown.
The Empire of Spain annexes Portugal.
Spain and Portugal are unified and become the Empire of Iberia.
The Atlantic Pact is abolished and reformed as the AIN, Iberia joins.
Alberto II declares Savoy's claims to be unlawful and tensions arise.
Iberia departs the AIN.
Iberia declares war on Savoy.
Iberia sanctions the Netherlands and declares them an enemy of the state.
Community content is available under
CC-BY-SA
unless otherwise noted.